Contents:
---
WORK
Biographical Abstract
Full curriculum vitae
Internal Medicine
Medical Informatics
Traditional Chinese Medicine

---
PLAY
Cooking
Media
Travel
WESTERN CLASSICAL MUSIC

Philippe Herreweghe
---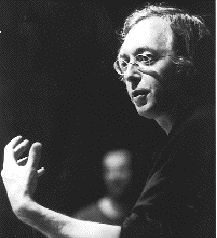 Philippe Herreweghe
Contents of this page:
For more information:
---
Recommended recordings
Philippe Herreweghe is one of my favorite conductors in the periodist camp. He began life as a psychiatrist, but switched to conducting as a young man. He has established two choirs in Belgium, the Collegium Vocale and La Chapelle Royale. He hit the big time when Nikolaus Harnoncourt tapped him to help prepare the choirs for his massive Bach cantatas project. From there, Herreweghe made a name for himself conducting Renaissance sacred music and the cantatas of Johann Sebastian Bach. To my mind, he is one of the better minglers of textural clarity and rhythmic buoyancy with a keen sense for line and structure.

Downsides? In 1997, Herreweghe gave an interview in Gramophone magazine. He talks about how he is inspired and drawn to music of profound spirituality, contrasting the spiritual Bach (or Bruckner, etc.) with composers he's not as keen on. Handel is cited as an example, someone who's too crowd-pleasing and lyrical. He also seems to have a morose look on every photograph I've seen, as though he came from some place where the sun doesn't shine very much. Not sure what this means as far as his performances are concerned. The pieces where I do like his work certainly don't tend to be pieces that call for much charm or humor, and perhaps that's part of what I'm missing in his performances of the Bach Passions -- the occasional bursts of crude joking, and the small measure of sonic hedonism for its own sake. Moreover, he may be a bit too reverent in his conducting. In his reverence, he tends to soften the rough edges, play down the harshness and ugliness that is in some of these works. And there are times that I wish the chorus and orchestra had a shade more bite and power.

Having said that, there is still a lot of distinguished, essential stuff that he has commited to disc. Here's a critical survey of my collection:
---
Josquin Desprez and Orlandus Lassus
Harmonia Mundi HMC 901243 was an early Herreweghe disc. It was recorded in 1986, and features the Chorus of La Chapelle Royale in seven a cappella motets by Josquin, the prince of Flemish Renaissance composers. If you only get one disc of Josquin motets, this is probably the disc to get: it includes some of Josquin's best known pieces such as his 4-part Ave Maria and his magnificently somber Miserere mei Deus, along with lesser known pieces. The singing is beautifully in tune, the articulation clear, dynamics tasteful, and the performances can be quite moving -- the plaintive Miserere is one of my favorite pieces for long dark nights of the soul.

Another Herreweghe disc that I'd take to my desert island is Harmonia Mundi HMC 901483, a 1993 recording with Ensemble Vocal Europeen of the Lagrime di San Pietro of Orlando di Lasso. The piece is a cycle of Italian poems exploring Peter's regrets over his denial of Jesus. The recording features seven unaccompanied singers, one on a part, which sometimes makes for somewhat murky parts (especially considering that it's in seven parts; try Paul van Nevel's Huelgas Ensemble CD on Sony Vivarte if this is a fatal problem for you) but is eerily beautiful in that way that only unaccompanied voices can be beautiful. The singing itself is utterly heart-breaking, Josquin's Miserere drawn out to an hour of exquisite pain.
---
Giovanni Palestrina, Claudio Monteverdi, and Heinrich Schütz
Ricercar RIC 008029 is an early recording, a 1980 disc of Palestrina motets and the Missa Assumpta est Maria. It's interesting, but not essential. The choir is still maturing, and I don't think Herreweghe had found his artistic voice yet.

Harmonia Mundi HMC 901388 is a collection based around a complete-service recording of the Missa Viri Galilaei. The virtues that pervade Herreweghe's Josquin and Lassus are much more in evidence here.

Monteverdi's great Vespers of the Blessed Virgin receive grand treatment in Harmonia Mundi HMC 901247.48, a two-disc set with La Chapelle Royale's Chorus and Orchestra. Herreweghe's attention to detail is much in evidence here, from the grand brass-and-double-choir extravaganzas to the intimate Duo Seraphim.

There's more Renaissance sacred music with orchestra in Harmonia Mundi HMC 901534, a compilation with the Collegium Vocale of Heinrich Schütz's Op. 11 motets and Kleine geistliche konzerte. The performance style reenforces a link between Schütz and Venetian masters such as Monteverdi. It's fascinating to look at the texts that he picked -- two of the ones in this set (Die mit Traenen saeen SWV 378 and Selig sind die Toten SWV 391) had their texts appropriated for Brahms's German Requiem, among other things. The word-painting is interesting to hear, but there isn't the punctilious detailing that characterizes Herreweghe's best work.
---
Johann Sebastian Bach on Harmonia Mundi
Herreweghe has made most of his recordings for two record labels, Harmonia Mundi and Virgin Records. He started recording for Virgin around 1990, but has continued working with both labels in the last decade. This division is therefore fairly arbitrary.

Harmonia Mundi HMC 901231 is a compilation of six Bach motets. It's not a place to turn for ultra-intense Bach, but again the singing is very refined, the playing is sympathetic, and the musicianship is always in evidence.

Cantata S. 21, "Ich hatte viel Bekümmernis"; S. 42, "Am Abend aber desselbigen Sabbats"; S. 56: Ich will den Kreuzstab gerne tragen"; S. 78, "Jesu, der du meine Seele"; S. 82, "Ich habe genug"; S. 158: Der Freide sei mit dir"; S. 198: Laß Fürstin, laß noch einen Strahl ("Trauer-Ode"): various soloists including Peter Kooy in the solo bass cantatas; La Chapelle Royale. Harmonia Mundi 3-CD set HMX 290826/28

This set pulls together most of Herrewghe's cantata discs for Harmonia Mundi (one of them is a disc of solo bass cantatas with Peter Kooy). They're all not bad, though for some reason that I can't put my finger on, they don't engage me nearly as much as the cantata discs that Herreweghe did for Virgin some time later.

Finally, Herreweghe recorded the two Passions with La Chapelle Royale for Harmonia Mundi. Here, the smoothing of the rough edges becomes a distinct drawback -- fine as the singing is, the bloodthirsty turbae crowds are rendered fairly toothless in these performances.
---
Johann Sebastian Bach on Virgin
Herreweghe has recorded other large-scale Bach works and cantatas for Virgin, with Collegium Vocale of Ghent. I haven't heard some of them, and really would like to know what his recording of the Mass in b sounds like. Some things I have heard include:
Christmas Oratorio S.248. Barbara Schlick, Michael Chance, Howard Crook, Peter Kooy; Collegium Vocale Orchestra and Chorus, Ghent. MHS/Virgin 522936W
Cantatas S.39 "Brich dem Hungrigen dein Brot"; S. 93 "Wer nur den lieben Gott laesst walten"; S.107 "Was willst du dich betrüben": Agnes Mellon; Charles Brett; Howard Crook; Peter Kooy, SATB; Chorus and Orchestra of Collegium Vocale, Ghent. Virgin CDC 7 59320 2
Cantatas S.131 "Aus der Tiefen rufe ich, Herr, zu dir"; S. 73 "Herr, wie du willt, so schicks mit mir"; S.105 "Herr, gehe nicht ins Gericht mit deinem Knecht": Barbara Schlick; Gerard Lesne; Howard Crook; Peter Kooy, SATB; same supporting cast. Virgin VC 7 59237 2
These discs have the usual virtues that I look for in Herreweghe recordings -- rhythmic buoyance, lovely sense of line, fine attentive singing and good balance between the orchestral parts. I've been finding myself listening to these discs repeatedly (and have been particularly struck by the exuberance of the Christmas Oratorio, and by the tenor/chorale aria Meine Seele wartet auf den Herrn from S.131). The liner notes are also an interesting read, placing the cantatas into a greater context of annual cycles of cantatas and concentrating, as these discs do, on the second cycle, which tightly integrated Lutheran chorale tunes into the structure in ways I was unaware of.
---
Mozart, Beethoven, and Brahms
In recording popular choral masterworks like Mozart's Mass in c and Requiem, Beethoven's 9th Symphony and Missa Solemnis, and Brahms's German Requiem, Herreweghe pit himself squarely against the mainstream of choral and orchestral conducting. Unfortunately, I can't report on a few of these, including the Mozart Requiem and Beethoven 9th. For all of these recordings, Herreweghe combines La Chapelle Royale with the Collegium Vocale and a period-instruments Orchestre des Champs Elysees.

Harmonia Mundi HMX 2901393 is a CD with Mozart's Mass in c K.427 and Meistermusik K.477. The Meistermusik is new to me -- it's apparently a heavily Masonic-tinted men's chorus/orchestra piece which is a lovely preparing piece for the Mass, and was pleasing to hear, though I wish this CD came with texts. The Mass has the usual Herreweghe characteristics, though here, I think I find myself preferring the buoyant exuberance of Gardiner on Philips. I definitely prefer the straighter-toned Sylvia McNair in the Laudamus and Et incarnatus to Oelze, but I suspect that's an issue of personal taste.

Harmonia Mundi HMC 901557 is a one-disc performance of the Missa Solemnis with soloists Rosa Mannion, Birgit Remmert, James Taylor (?), and Cornelius Hauptmann. This recording is essential, for me. The choir is impeccable (apparently taken from a live performance, and I'm frankly amazed that the choir managed to sing through this piece, with an orchestra which outnumbered them, and made musical sense out of the piece and apparently survived to tell the tale), the soloists balance well, and there's no lack of power in the sound. It's lithe, transparent, and brilliant, where Klemperer is monumental and imposing. I wouldn't want to be without either.

I suspect that if Herreweghe turned his attention to purely orchestral conducting, he wouldn't do well against the older-school competition. Still, a choir seems to be able to bring the best out of him. Herreweghe has turned in a deeply moving performance of Brahms's German Requiem for Harmonia Mundi. It's one of my favorite German Requiem recordings available.
---
Anton Bruckner and Gustav Mahler
Bruckner and Mahler aren't names that you associate with Herreweghe the choral Bach conductor. But the Harmonia Mundi disc of Bruckner's Mass #2 in e is a lovely match. Herreweghe's choirs do very well with Bruckner's spare choir-and-winds orchestration, making for an eerie Kyrie and an otherwise memorable performance.

In April 1993, Philippe Herreweghe recorded Mahler's valedictory Das Lied von der Erde. Only he didn't do it with a typical Mahler orchestra. Instead, he opted for a reduction for an ensemble of 13 instruments, done by Arnold Schoenberg for performance in chamber settings. Harmonia Mundi HMC901477 features contralto Birgit Remmert, tenor Hans Peter Blochwitz, and the Ensemble Musique Oblique. This is a marvelous, fascinating disc. More of its virtues are discussed below.
---
Herreweghe conducting Mahler in New York
Herreweghe usually conducts in Europe, and rarely comes to the United States. In 1997, though, he took 13 members of New York's Orchestra of St. Luke's on a tour of several United States cities. (Here's an interview with him in the Detroit News during this tour.) What follows below is my impressions from a concert given in New York on October 3, 1997.

The program:

It's funny to say, but I'd managed to feel like I knew this music without ever sitting down and carefully listening with text in hand to either set. The Wayfarer Songs proved to be the biggest revelation, since I don't have a recording that has texts. It's quite an odd piece for a 20-something's composition -- death-obsessed texts, occasional outbursts mimicking joy, which turn out to be a false dodge for deep depression, and an almost perverse sense of the macabre. Having said that, I still love this music, perhaps more so now that I know how Mahler found accompaniment to echo and flesh out the thoughts being expressed in the text. The orchestra could be playing in a different meter, even a different harmony, and yet there's a closeness to the setting that makes me think that Mahler must have had a well-thumbed copy of Winterreise sitting on the piano stand as he was working on this piece. One particularly enjoyable revelation: the final song, where the dejected lover proceeds to journey out into the world, to a steady tread from the orchestra reminiscent of Winterreise and Schoene Müllerin. This is followed by the transition to the lindenbaum scene, where leaves fall like snow, and violin notes descend like gentle snowflakes. Marvelous effect, and Schoenberg's reduction is a model of clarity. I didn't feel like I missed much, and the reduction may have even served to heighten the key elements in the accompaniment. Certainly also makes it easier to hear the singer, and to use a singer with a more lyrical bent, which is also a definite plus.

Das Lied is a piece whose text I'm more familiar with, yet here, with close following, specific characters fleshed out for the individual songs in my mind. Mahler selected these texts from a compilation of German translations of classical Chinese poetry. The orchestrated accompaniment is very unusual for Mahler. I don't think it's just Mahler trying to sound Chinese, but there's a vastly increased subtlety, not so much of accompaniment directly expressing the text. There's a much wider and richer use of orchestral colors, too, and some surprisingly spare application of those colors, particularly in "Abschied." Here, I might have felt a little let down by the Schoenberg reduction -- it's tremendously demanding, and there are some times when Mahler simply seems to call for too many things at once, such that I kept feeling cheated of orchestral detailing. Also, the final song has some key moments involving multiple bass instruments creating a spare but deep, overtone-rich sonority. This didn't come across when carried only by a bassoon, horn, and piano, which was something of a pity.

The baritone soloist in the Wayfarer songs was Boston's Bill Sharp. He has a lyric, lighter sort of voice, but even with Schoenberg's sparer orchestration, he was still getting drowned out by the orchestra at some of the louder passages. What I could hear of his singing sounded pretty good, though. In general, the Schoenberg reduction did suit the voices of all singers, and allowed them to display their lyric gifts to some advantage.

I don't know anything about Markert or Young, but think I probably should. Thomas Young looks to be a middle-aged black gentleman, with a clarion-clear tenor voice. German, unfortunately, clearly isn't his first language, and my admittedly non-German ears didn't find his enunciation all that fabulous. But he can carry over the orchestra quite nicely; I do wonder what he'd do against a full orchestra. Markert was the real gem of the evening, though -- she provided gorgeous tone through all registers, rapturous singing, decent diction, and a passionate, moving reading of the text. I could definitely listen to her do "Abschied" a few times over.

Herreweghe himself was sort of odd to sort out. He holds the stick in an oddly uncomfortable position, with wrist cocked back, baton pointing out in the same direction as his forearm, and stiffly held in that position all night. The orchestra's performance, unfortunately, was wildly uneven. They seemed in good enough shape for the Wayfarer Songs, but in Das Lied, Herreweghe seemed not to be phrasing or accompanying with the natural rhythmic flexibility that he shows in his recording, and there were a number of jolting ensemble problems. At least one tuning thing that I noticed was downright embarrassing -- winds playing out of tune against the piano, which really didn't sit well. I heard from one of the musicians later that they started rehearsing on Wednesday, which might well explain part of the problem. I suspect that revelation left a bitter taste in my mouth -- here I am, having waited ten years to get to hear Herreweghe, and this tremendously demanding, difficult music gets the disappointing short shrift of two days' rehearsal. (The New York Times review of the concert leaves a very similar impression.)

Despite this, it was fascinating to hear the work in such close settings. The concert served to illuminate the recording, and while I wouldn't want this to be the only way that I would hear this work, it's certainly a very interesting way to hear it.
---
Favorites mentioned in this essay